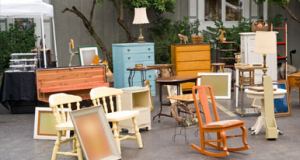 Make money with yardsales
This is one of the best ways to make a quick buck and some people make a full on living out of this or at least have a sizeable chunk of their income coming from buying awesome stuff that rich people don't want and selling it off on Craigslist.
Here is how to do it
Go to rich neighborhoods.
Visit https://garagesalefinder.com or similar one of these
Buy cheap, have cash at hand
Buy stuff that you know will sell. If there are many of the items selling on ebay with people bidding on them, that is a hint that the product is popular
Take your phone or laptop with. Research the price. I have seen Cole Haan laptop bags for 30 bucks that retail for 400 plus dollars.
How to make money with yardsales
The idea is to go to rich neighborhoods and buy stuff that rich people don't want anywhere. These are really wealthy people with awesome stuff for sale that us normal people cannot buy such as:
Awesome clothing and accessories on yardsales
Awesome sports equipment on yardsales
Awesome travel accessories on yardsales
Awesome electronics on yardsales
Awesome cameras on yardsales
Where to find the best yardsales
Sell yardsale purchases on ebay
It is probably best to stick to local listings
Craigslist
Ebay knockoffs in Europe such as eBay Kleinanzeigen
Facebook groups!
Many more can be found here on Digitatrends.com
How to get money short term (not now)
Here we talk about ways you don't get money now, but you actually learn about the roads that exist that will take you to a better future. We do these things ourselves.