For a free bank account with no fees that works on your phone, N26 is the best. It has been popular with millions of people in Europe for a few years now and it has finally arrived in the USA. It's made for your smartphone, it is user friendly, it has low fees and the overall usefulness and a plethora of features make it the single best option for banking on the market today.
N26 is a different business model and they call themselves the no bullshit bank for a reason: it is simply easier and better! Think of it like the way Amazon approaches business in comparison to Barnes & Noble. It is so much better in so many ways than anything else out there that you will be giving up your traditional bank account as soon as you realize that it has the lowest fees in the market, how easy it is to open an instant account even if you have bad credit, low income and that you can get the web app even in Spanish!
How to open your N26 free online bank account, in as little as 8 MINUTES.
How to get a real N26 debit card Mastercard in your mailing address in a few days, even without income or with bad credit
How to use your N26 phone app or website to send and receive money, make deposits, even get a loan.
How to use your N26 free bank account to transfer money abroad to hundreds of countries via Transferwise.com
There are other offers from Simple.com, transferwise.com, bitwala and bitpay.com and you can learn more details here.

N26 Free Bank Account is Simply Better
Open your account in 8 minutes
No monthly nor yearly fees
No cost to setup account
No ATM fees ( up to 5 withdrawals) in Europe
No Currency exchange markup
Opening an account is entirely done online, including the video chat with a verification professional
You get push notifications on phone via app, not SMS, which is very useful
You can open account from anywhere in the world
The app is in multiple languages
You do not need an invite to open account with N26
You can invest money, and even get a credit card
Your account works right away to receive and send money: you don't need to wait for your card to arrive to start using the account.
Most modern current account made specifically for smart phones
Free account management
Free Mastercard
Free cash withdrawals worldwide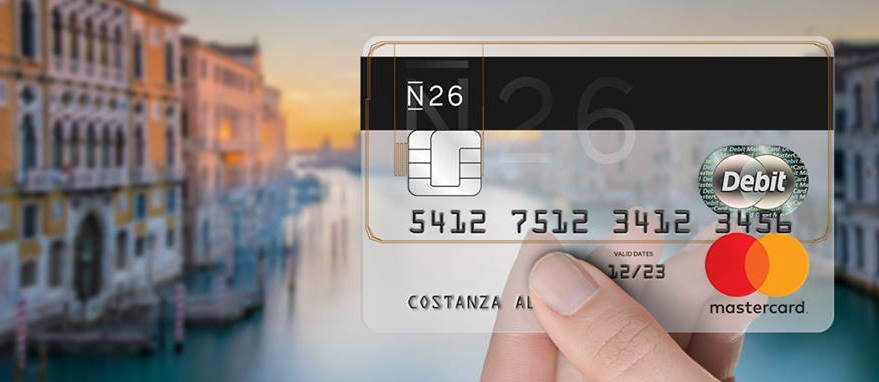 N26 Free Bank Account: ALL THE AWESOME FEATURES

N26 Free Bank Account Features: Automatic Statistics

if you are a person that likes to see where your money is going you will love N26. It registers all the ways you are spending your money and even recognizes some of your spending habits automatically organizing it all in handy graphics.

This will allow you to get a very useful overview of your financial data and perhaps make some improvements in your spending habits!

N26 Free Bank Account Features: Money Beam

This is a feature that allows a user to send money to another user instantly from one account to another. Instantly! You don't even need a bank account number to do this, just an email is enough. You select the app's contact list and from the list you send money to anyone with a few clicks.

Every time you send money to a new person their information is saved, so it is easy to repeat the transaction at a future date.

N26 Free Bank Account Features: Scheduled Payments

You can easily schedule payments with N26, so you don't forget. One nifty little feature is that if you don't have enough balance for a scheduled transfer or automatic debt, you will receive an email a few hours in advance reminding you to top up your account.

N26 Free Bank Account Features: Control Center

This is extremely useful stuff because you can do things that until now you had to make a silly phone call which could take hours depending on which bank you use.

Block and unblock your card
activate payments
Activate or deactivate internet purchases
Block withdrawals
Choose your language
Change your pin!

N26 Free Bank Account Features: Instant bank account with N26:

Remember that you get an instant bank account. It works in a few minutes. With it you can do all sorts of transactions from the get go including transferring money and receiving money too. Old banks used to call this instant approval and advertisements used to say " bank account 1 hour". How about 8 minutes?

N26 Free Bank Account Features: Bank account no fees with N26

There are no fees to open your N26 free bank account, you get some free withdrawals, free international money transfers and a bunch of other free stuff. However you do pay for a few things:

5 withdrawals per month
You pay to deposit money from partner stores above a certain amount
How to Open Your Free Bank Account With N26: Every Step!

Requirements:

Absolutely ANYBODY can open a free bank account with N26 and you can be a resident of anywhere in the contiguous United States and its territories. You will need a mailing address so they can send you the Mastercard debit card that comes with your free bank account.

Opening an account

Opening a free bank account with N26 is done easily in a few steps and in as little as 8 MINUTES!

Fill out the registration form you can find here
Complete the ID verification through your phone via their app
Pairing your phone with your account

Steps 1, 2 and 3 are the same for everyone with an State issued ID or US passport and an address.

Online Registration

Regardless of what state you reside or any other nationalities, you start by filling out the registration form. Just visit this page and follow the instructions. If you happen to be traveling abroad it is the same process as long as you have your passport handy.

You will have to enter several details about yourself, including:

Email
First name
Last name
Country of residence
Email
DOB
Password
A phone number (from anywhere in the world)
Mailing address so you can receive your Mastercard, a PO Box is ok.

You will be asked information that is related to Anti-Money Laundering too:

Gender
Job related information
City of birth
Nationality
Tax residence
Tax ID number (optional)



Agree to the standard terms & conditions and you will receive an email confirmation. After this step, you will receive an option to choose the card you want: normal N26 or he N26 BLACK which comes with insurance and gives you 1 year warranty on your phone for a monthly fee.

ID Verification

Now you will be going through a verification process with N26 via your app. You will open the app (phone or online) and you will be getting in line to receive a video call from a verification specialist. You can have any of the following passports/ID combinations:

Argentina (Passport only)
Austria (Passport & ID card)
Belgium (Passport & ID card)
Bolivia (Passport only)
Bosnia Herzegovina (Passport only)
Brazil (Passport only)
Bulgaria (Passport only)
Canada (Passport only)
China/Hong Kong (Passport only)
Colombia (Passport only)
Croatia (Passport & ID card)
Cyprus (Passport only)
Czech Republic (Passport & ID card)
Denmark (Passport only)
Estonia (Passport only)
Finland (Passport & ID card)
France (Passport & ID card)
Germany (Passport & ID card)
Greece (Passport only)
Hungary (Passport & ID card)
Iceland (Passport only)
Ireland (Passport only)
Italy (Passport & ID card/CIE only)
Japan (Passport only)
Latvia (Passport & ID card)
Liechtenstein (Passport & ID card)
Lithuania (Passport & ID card)
Luxembourg (Passport & ID card)
Malta (Passport & ID card)
Mexico (Passport only)
Morocco (Passport only)
Netherlands (Passport & ID card)
New Zealand (Passport only)
Nigeria (Passport only)
Norway (Passport only)
Poland (Passport & ID card)
Portugal (Passport only)
Romania (Passport only)
Russia (Passport only)
Singapore (Passport only)
Slovakia (Passport only)
Slovenia (Passport & ID card)
South Africa (Passport only)
South Korea (Passport only)
Spain (Passport & ID card)
Sweden (Passport & ID card)
Switzerland (Passport & ID card)
Tunisia (Passport only)
Turkey (Passport only)
Ukraine (Passport only)
United Kingdom (Passport only)
USA (Passport only)



And you can get N26 accounts from all US States and territories:

Alabama
Alaska
Arizona
Arkansas
California
Colorado
Connecticut
Delaware
Florida
Georgia
Hawaii
Idaho
Illinois
Indiana
Iowa
Kansas
Kentucky
Louisiana
Maine
Maryland
Massachusetts
Michigan
Minnesota
Mississippi
Missouri
Montana
Nebraska
Nevada
New Hampshire
New Jersey
New Mexico
New York
North Carolina
North Dakota
Ohio
Oklahoma
Oregon
Pennsylvania
Rhode Island
South Carolina
South Dakota
Tennessee
Texas
Utah
Vermont
Virginia
Washington
West Virginia
Wisconsin
Wyoming
District of Columbia
Puerto Rico
Guam
American Samoa
U.S. Virgin Islands
Northern Mariana Islands

There are some exceptions and this list may change at anytime. For example, old passports without biometric technology may create problems. There will be a non-video check option which you can choose via the app but that will take a few days. Remember that you will still need a US address to receive your card.

Video Identification:

You can either verify your identity with your laptop or a phone. In either case, please make sure that your camera is sound is working well and that the lighting in the room is sufficient. This is very important for the verification to work because the specialist will be taking pictures of you holding your ID.

Have ready:

Passport or identification card
Phone with the same number you entered.
Some time reserved for the operation in a quiet and well lit room

Once the call is on the way, agents usually appear promptly with rarely delays periods being an issue. This is not available 14/7, so please watch out for working hours on n26.com

You will be asked by the specialists to verify a series of information bits that you entered on the registration form. You will also be asked to type a code that will be sent to you via SMS. You will be showing the ID in various angles and depending on the regulations they may take various pictures and even a short video.

The call will be similar to the one explained in the video below by N26's video verification partner in Europe.

Pairing your phone

The last step is the activation of your free bank account and the pairing of it to your smartphone. If you haven't already, download the N26 app and login. Because the account isn't yet paired with your phone, you will be going through a few final steps which are easily followed.

Make sure that the phone number is correct and click the confirm button. You will be receiving another verification code via SMS and entering it in the app.

Changing the number isn't too hard, but you will be required to contact N26 support to get help.

With the paired phone, you cal use it to verify transactions, send and receive money to any account in the US, easily send money to other users of N26 via the Money Beam feature (for free) and also activate your card once it arrives

That is it, just wait for your free bank account with N26 card in the mail and finally learn what it is to have a bank account on your phone with no hassle!

Free bank account with N26: bad credit or no income is not a problem!
When you open your free bank account with N26 you will realize that they don't care about your credit nor your income. As long as they get to see your face on the video verification and have an address in the United States to receive your card, you will get your online bank account for free without the need for a deposit, credit verification or any other silly stuff that big banks grew accustomed of asking people in the US.
You can create free bank account online with N26 because it is a completely different business model. Think of it like Amazon approaches business in comparison to Barnes & Noble.
You can open bank account for free because they make money when you nee to deposit money which you can do in any of its partner stores.
There is no need to deposit an initial amount of money. Yes: it is a free bank account online no deposit!
Free bank account without income with N26: N26 does not verify income!
Can you open a bank account without income with N26. The answer is absolutely yes. N26 does not ask you to deposit money not it requires that you have proof of income because it is a new way of doing banking. There is no particularly special reason! It is simply better like that. Banks have been consolidating for so long that a bank account without income became a non-reality for customers.
The old school banks better watch out because they will die if they do not create systems as easy as N26 that allow bank account no income to be created.
Bank account bad credit with N26:
Can you open an online bank account with bad credit with N26? The answer is YES. N26 does NOT check your credit because it believes that your credit has nothing to do with your bank account. Of course, if you choose the N26 credit card, then N26 will care about opening a online bank account with bad credit.

Bank account in Spanish with N26: it is available in various languages!
You can finally get your bank account in spanish with N26, which has spanish language online and web app for the comvenience of yourself and your family. Say you have a foreign mother that - despite being a resident of the US for many years - is still uncomfortable with English interfaces. This is not a problem anymore:
Navigate the entire interface in Spanish
Spanish speaking customer service (limited availability)
Video instructions in Spanish

International Money Transfers with N26: Do it the Transferwise.com way.
N26 has a partnership with Transferwise.com that allows you to send money anywhere in the world for the lowest fees in existence. It is yet another N26 revolutionary feature that is finally being offered to US consumers.
Send money abroad to 200+ countries
Send money abroad as far as a few hours
Send money abroad for the lowest fees in the world
Send money abroad straight from inside the app.