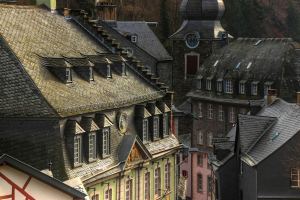 Germany is known for Bier, Bratwurst and bureaucracy. Well, the last one mostly among those who have tried to settle in Germany. The love for paperwork is enormous. It's probably even worse than Italy, where there is at least a fair amount of flexibility. Opening a German bank account requires a fair bit of paperwork with most banks in Germany.
Fortunately there is Berlin, not just for partying and its more relaxed attitude. It's also one of the top 10 startup capitals in the world. Some interesting fintech companies have seen the light in Berlin. Thanks to this opening a bank account in Germany is now also possible for non residents. Which can help a lot getting started. Or just if you want to open a Euro bank account. Going through the German bureaucratic procedures can be hassle. In many places you need Schufa for renting an apartment, for which you need a bank account, for which you need an Anmeldung, for which you need... an apartment. If you have good friends you can register with them but that's still a long shot from opening a bank account. Fortunately there are banks that allow you to open a bank account without an Anmeldung.
Open a bank account in Germany: The best options
Most banks in Germany have free current accounts (Girokonto). Some even give you a bonus when you sign up with them, for that you need to show some proof of regular income though.
Number26
As of July 2015 NUMBER26 is by far the best way to get a bank account in Germany without an official registration: As it goes they're also happy to provide customer support in English and their bank account must be one of the most modern bank accounts in the world. Plus you can do everything from the app! If your friends also have NUMBER26 you send money to them instantly, very convenient when you're bar hopping in Berlin.
Whenever you make or receive a payment you get a push notification on your phone - unless you turn this off of course.
And it's not just an app. Your bank card is also MasterCard. It's all pre-paid, so no way to get in debt. But it's also all free.
Signing up is a matter of minutes. You fill in the form, install an app to verify your ID and they send you the bank card to your address in Germany (or Austria). At some point NUMBER26 will probably also open up in other countries. but for now you do need an address in Germany or Austria, but this can be an address of your friends or your hotel or hostel even, as long as the letter with the card gets to you.
With the card you can take out money from all ATMs in Germany - for free. The same for Euro cash machines all over EU countries. Possibly even all over the world, but we have to check that.
The card is also a MasterCard, so you can also use it for most of your online purchases, as long as you have enough money in the account. And it comes with an IBAN number, so free incoming and outgoing SEPA transfers.
Overview of costs
Maestro card: 0€
Withdrawal with any bank: 0€
Pre-paid MasterCard credit card: 0€
NUMBER26 can do this because they don't have any offices you can visit, and they make money with the fees that merchants pay. NUMBER26 probably just wants to become the biggest bank in Europe and be profitable because of the millions of these small fees.
And again, for you as a consumer every transaction is completely free.
So yeah, overall, NUMBER26 is a great choice for a German bank account for non residents, but also for residents, given that most German banks charge a fee for taking out money with another bank's ATM.
DKB
For a long time the DKB was known as the bank for foreigners. Non residents who needed a bank account in Germany could open one easily online. But these times have ended. First of all, no easy way to open an account without an Anmeldung, and second, DKB is not very happy to communicate in English. In fact, they outright refuse. So unless you speak German and you have or you are expecting to get an official registration statement soon, DKB is not really a good choice.
If you ARE a resident
These can be good possibilities if you are residing in Germany. If you have a legal Anmeldung, you these can also be good choices for a German bank account for foreigners.
Fidor Bank
netbank – giroLoyal
TARGOBANK Online-Konto – you can pick the account number yourself.
Sparda-Bank Nürnberg
norisbank – Top-Girokonto
Possibilities in areas near the German border
If you don't live in Germany, but you are a resident of a bordering country and you live near to the border you can also simply go to a branch near you. Many German banks in border areas are happy to let folks living across the border open up an account. This doesn't work with online accounts though.
European bank account for non residents
If you're looking for a non resident bank account in Europe, you can of course simply choose a bank account in Germany. Many other EU countries are just as fine though, thanks to SEPA there's not a big difference.
Payment solution for companies out of Europe
If you want to open a bank account for your company there may be better and simpler solutions. With B2B Pay you can open a non resident bank account that allows you to receive money from Germany and 34 other SEPA countries in Europe.
Further reading
Other languages