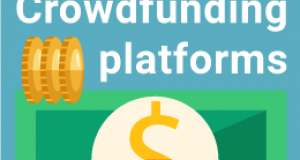 Crowdfunding platforms can be a great way to implement a business idea. However, with so many options available outside of the big 3 - Kickstarter, Gofundme and Indiegogo, it is important to know what crowdfunding platform one should use depending on the project.
It is also important to know what are the alternatives to crowdfunding platforms, which can fund a project for less, easier and without the hassle. Such alternatives include normal bank loans, BTC Loans, loans from friends, P2P Lending, Blockchain crowdfunding and many other ways to make some money.

Crowdfunding platforms: the big 3
https://www.kickstarter.com/
Kickstarter is the world's most popular crowdfunding site as you probably already know and it has become synonymous with the fundraising method. "Let's kickstart this" is a saying people say to refer to the practice! It started in 2009 and it was unique for promoting products even with small donations with the offer of products: 5 dollar donations or "investments" for a t-shirt or a set of stickers.
Most projects on it are creative such as artwork, movies and so on. It is a good site for starting retail products that are unique too. Because of the way the funding is structured, it is much easier to raise money for art or a cool paperclip set than it is to start a brand new software business. They charge 5% fee + bank fees and if you don't raise 100% of your target, you get nothing!
https://www.gofundme.com/
Another big name indeed, but it is no Kickstarter. Here you can raise money for anything even if you want to pay for college, medical bills or that dream season tickets to the Lakers...
So, gofundme.com is more about personal projects or causes which is good for small businesses for example. There is NO PLATFORM FEE for US people (foreigners pay a 5% fee) and payment processing fee is the usual 2-5%.
https://www.indiegogo.com
The coolest thing about Indiegogo is that it on't require that you meet the goal set in the beginning of the project for your project to raise the funds. This is a big deal because often there are projects that will almost meet the goal and have to start again. Beware that the fees for not reaching the target fundraising goal are high so not paying for the high fee is the incentive to work hard on marketing for the project.
It is a great fit for all sorts of projects because it has fixed and flexible funding (hard or soft targets). The fee is 5% and not hitting the target doubles it. There is no fee for fixed funding if you hit the goal which is great and payment processors will charge you as well (impossible to avoid).

Crowdfunding platforms: the other 5
The world of crowdfunding is popular all over, with hundreds of well oiled platforms helping people in dozens of countries to realize the potential of their intellect and ability to invest and create well being for each other. There are over 100 crowdfunding platforms running all over the world in places such as Israel, Australia, Brazil, Japan, Mexico, India, China and so on.

Crowdfunding platforms: the alternatives
Raising money for a noble reason can be difficult, but if entrepreneurial pursuit and the American dream is your thing (which it should) then look no further than the list below to fund your dream business idea (or personal project).