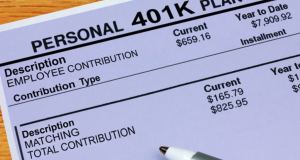 If you have an existing 401k plan right now, then let me tell you that your financial life is already many paces ahead of the average person. A 401k is a good decision for a multitude of reasons. First, it's an easy way to save. Second, you have the option to technically borrow from yourself by way of a 401k loan.
However, you may feel strange about a 401k loan - after all, didn't you set aside all that cash away from sight so you can be prepared for retirement? Even with this set-up in mind, you can still maximize what a 401k has to offer, especially when you have the sudden need to take out a loan.
If you are afraid to touch your 401k, then you have the right idea. You want to be as comfortable as possible at the end of your working life, and every time you shave off some money from this account, the bigger the losses it would be for your long-term plan. That is why you should weigh your options for a regular loan and a 401k loan. It may be helpful to investigate your other options, and the state of your employer before taking on a 401k loan.
As far as savings plans go, despite being customizable and negotiable with employers, a 401k is not the most flexible plan. Despite this, you will still have the opportunity to borrow from your own plan. It sounds like a pretty incredible deal to have when you most need it..
Here are some things you should remember if your are considering taking out a 401k loan:
There is a withdrawal limit. This is usually up to half or 50% of your current balance. You don't want your entire savings plan to be withdrawn as it defeats its own purpose otherwise! Be smart about the amount that you will withdraw because you want to maximize any fees and opportunity costs related to this transaction.
You will miss the possible growth on investment. Since this is money you have taken out of the plan, it will not enjoy the compound growth you have signed on for. The time value of money may not be visible to you today, but if you understand how the money is invested than you should agree that you will potentially regret the opportunity cost.
There will be a payment deadline. You will have a necessary amount of years to pay the 401k loan back. Since the 401k is connected to your employer, you will also be forced to think about your career with the company. Do you see yourself staying longer? If you took out a hefty 401k loan, paying it back in proper timing to the employer hosting you may become extremely difficult. Think about your future in the company before taking the plunge.
There will be a tax hit. The money put in your 401k, when taken out on a loan, will also be taxes when it is repaid. For depositing, withdrawing, and once again depositing the money into your plan, you will get charged many times and it can be very expensive.