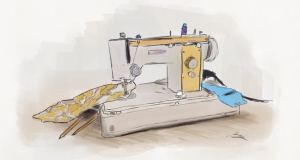 Nothing is more fun than making and repairing your own clothes. A sewing machine is a great tool to do this and it's not hard to handle. You just have to learn it!
You can patch pants or make a bag from old t-shirts. Or make your own pants. Sewing is also fun to do in a group. There are likely to be more people in your neighborhood that like sewing. You can learn from each other. The only thing to do is to find them. Ask around in your group of friends, check Meetup or post an ad in your local supermarket.
On wikihow.com you can find more about how using a sewing machine.
Image from Wikipedia, CC-BY-SA.