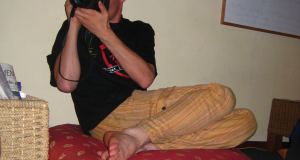 Moneyless.org is a funny continuation of many projects we've worked on and built over the past 10 years. Back in 2006 I started Hitchwiki together with MrTweek. Fortunately I didn't accept Casey Fenton's offer to host the project on CouchSurfing's servers. By now Hitchwiki has 3k+ articles in English and many more articles in other languages, by far the best resource for hitchhikers across the world. In 2008 Robin, the other half behind Moneyless told me to register trashwiki.org. I did and another awesome wiki was born. This time for dumpster diving.
Last year I started Nomadwiki.org as well, mostly thanks to Mikael's energy and smiles.
Most people who are active in all these projects have been actively supporting BeWelcome, the best website for hospitality exchange.
I hope we'll be able to support all these projects with proceedings from Moneyless and spin off websites in the coming years.
Nomad- and Hackbases
For about 4 years Robin's house was not like any other house. Casa Robino was a social experiment. One that is continuing in other places, other nomad bases. Yeah, nomadbase.org is one project that didn't really come off the ground. One day?
Meanwhile there's a great hackbase at Lanzarote: CHT.
Wikipedia
Wikipedia definitely deserves mention. Back in 2003 I was spending a lot of time editing Wikipedia. Early 2005 I spent 5 months in Mali with Geekcorps thanks to a post on Slashdot and I set up Wikipedia in Bambara.
So many more people and projects
There are many more projects and numerous people who made all these projects happen. We'll add more links here over time.
---
Contact us if you think we should add a project to this page!