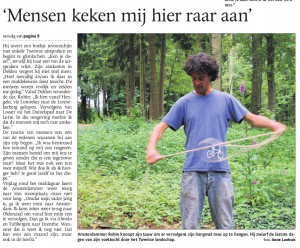 I have just returned from a first successful trip without money through the Netherlands. Over three weeks walking from spot to spot, just with a hammock, some toiletry, sour dough for making bread and extra clothing.
I went from Amsterdam towards the German border at Denekamp, through Muiden, Naarden, Huizen, Zeewolde, Harderwijk, Elspeet, Vierhouten, Vaassen, Terwolde, Twello, Deventer, Bathmen, Rijssen, Delden, Hengelo, Losser, Lutte, Denekamp and Oldenzaal. From Oldenzaal I hitchhiked back to Amsterdam. For the the future I plan to hitchhike back to Oldenzaal to continue walking, throughout the Netherlands.
I mostly slept in forests and at times - when invited - in people's homes. I have baked bread, been in the home of a baker and I've often been invited by people for dinner or to sleep over. Apart from that people and shops have given me fruit, cheese and meat. I've also eaten warm meals in about 10 restaurants. I would enter the restaurant, tell about my journey without money and ask them if they would have some left-over food for me. To my surprise I would often get the house special.
People were often very surprised to meet me and hear about the reasons for my trip. Most people were happy to help me continue. The walking itself went well, every day was a new adventure. Sometimes you'd walk around 20-30km other days just 5. It all depended on how I met on a day and how I was feeling. Not having goals proved to be key here. If you don't have to be at someplace before dark (to find shelter and enough food was my only goal) you are free to go anywhere - or nowhere.
At the end of the trip I passed by a newspaper. I walked in and told my story. They wrote the article in Dutch you find above and in this post on my personal website.
We also have a more extended overview on how to travel without money on moneyless.org.