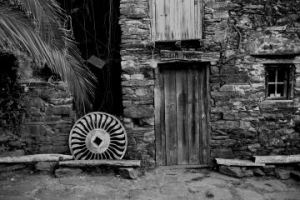 Last summer I was traveling in Portugal. Walking and thumbing. I hitchhiked from North to South and enjoyed all received hospitality. In those three months I have not spent any more, except sometimes when I received money from people and needed a break. I didn't have anything myself.
I didn't have plans and so I ended up in many adventures, not in the last because I was open to meet new people. And thus I met quite a few characters who were excellent at effectively refusing.
For example a man in Porto who was sitting on a bench holding the entire world in his hands.
He told me precisely where to find free breakfast, lunch and dinner and where the best sleeping spots where. He had been living like that for years, sitting on that one little bench. He had travelled half the world, jobs, homes. But why would he participate in the "rat race", as he called it, if he already had everything by doing nothing?
This is a start of a translation of the same story in Dutch.